Bespoke Themed Events – Theme Nights – Theme Parties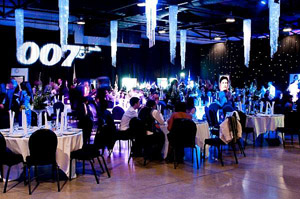 Bespoke Themed Events – Theme Nights – Theme Parties
Armed with extensive stock from our ever-increasing Warehouses, we are able to fully manage your themed event from finding the right venue through to dressing, artiste management, guest registration and budget management to make sure you get maximum value for money.  Whether you choose a classic theme or design your own, our specialist team of Event Managers, Lighting Designers, Prop Makers can help you create an event guaranteed to stay in your guests memories for years to come.
Something A Bit Different?
As we design and manufacture Props, Graphics, Stages Sets & Table Centres right here at Prego HQ, we are able to personalise your event down to the smallest detail.  Creating the perfect environment for you and your guests to enjoy and matching it with the perfect food, music and entertainment is our speciality.  Having created bespoke events for VIPs, Corporate Launches and large-scale Charity Events, we have a hefty back catalogue of success stories to prove we are the best at what we do at Bespoke Themed Events – Theme Nights – Theme Parties.
call us on 0845 8386877